About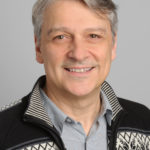 I'm presently a Professor (Professeur Titulaire) in Finance at HEC Montréal.
I'm a CIRANO fellow, a member of CIREQ, and a co-editor of the Journal of Business Cycle Research. I'm also a co-organizer of The Real-Time Economics Conference and a regular participant in the FT-IGM US Macroeconomists Survey.
I spent three years in the HEC's International Business Department and 9 years at the Bank of Canada. I've done some adjunct teaching at Queen`s University, WBS and ETH Zurich, and have been a visiting scholar at WBS, UPF, the EUI, and U. Melbourne, as well as the ECB, the RBNZ, the Norges Bank, the Nederlandsche Bank, and the FRB of Philadelphia and of Kansas City.
I've occasionally done technical consulting via my firm Ergodic Quantitative Consulting Inc.
My pages: Google Scholar, IDEAS, ORCiD, Mendeley, ResearcherID.
Leave a Reply
You must be logged in to post a comment.