The Cemetery at Muiderberg
I'd planned a couple of months ago to visit the Ashkenazi cemetery at Muiderberg with Henri Biron when I visited Amsterdam. I remember hearing Dad talk about how old it was and how our family could trace its roots back to the cemetery's founders. I also knew that Dad's father, Simon van Norden, was buried there and was interested in seeing the grave.
The beginning of the visit was not auspicious. I was in the Birmingham airport for my flight to Amsterdam at 8am Saturday morning when I get a message from Henri. The plan was for him to meet me at Schiphol and spent the afternoon visiting the cemetery. Of course, he'd only just realized that visiting the cemetery on the Jewish sabbath might not be a good idea: they might be closed! Needless to say, neither of us had thought of this before…. (because we're so smart.) At this point, rescheduling was not an option, so we pressed on regardless.
We arrive at the cemetery with Rénée (Henri's wife) in the early afternoon; sure enough, they're closed and the gates are locked with chains. We can look from the road and peer thought the front gate, but there's not much to see. So we turn around and head back to Amsterdam, catch an hour of the Rijkmuseum before it closes and go to dinner.
The next day, Henri and Rénée are back in Brussels and I'm finishing off a grant application due the same day, so I get a late start to Muiderberg. The hazy sun we had the day before had also been replaced by heavy overcast (with a few raindrops on the taxi taking me back to Muiderberg.) Don't let the colours in the photos fool you — I'd boosted the saturation a bit on the camera — things were pretty grey. With a temperature hovering around 4 C, I was fighting to stay warm most of the time.
The gates were open, but the place was deserted, the two main building locked tight and no one around. In the hour and a half I was there, I saw one lady walking with a young boy and a dog walker. There was also no way to look up graves, no maps, no indices, etc., which I was not expecting. Fortunately, I managed to look up a few names online as I went and got lucky, realizing that the cryptic "source" code they give online is also the location of the grave.
The cemetery is divided into a number of rectangular sections, with tightly-packed graves in neat rows. Most of the headstones are similar and quite plain, with Hebrew text and dates above and Dutch below. The cemetery is still in use with new graves still being added in the latest section, but most sections are much older and the environment varies from area to area.
Mostly things are orderly; you'll see some repaired or reinforced headstones and practically none leaning or fallen. On the other hand, the older sections are clearly "low maintenance": the ground is uneven, grass is never cut, leaves are never removed, etc. It is also clear that many older headstones are missing (more on that below.) In one part, the graves are being reclaimed by the forest; huge holly bushes hide gravestones inside their branches, vines smother the headstones and clearly no one has passed that way for very very long time.
My first objective when I arrived was to try to find my grandfather's grave. It took a few tries, but I found it in a more orderly but little-visted section of the cemetery.
Now, there are at least two Simon van Norden's buried at Muiderberg. The other one listed died 23 September 1849 of "verval" (decay.) I wondered whether he might be a relative, so I tried to find his grave next. Although he was in the same section, the area indicated in the records seemed to be in worse repair, with more missing graves and missing row numbers. As far as I could tell, the only thing that stood where his grave (and those of his neighbours) should have been, was this tree.
You can see that, having moved back in time by 70 years or so, the headstones are worse for wear hereabouts. As you go further back, you see more of the same.
But enough of the van Nordens. Henri had asked that I also have a look for his grandfather's side of the family, who were named Kellerman. Sure enough, I found a couple of them.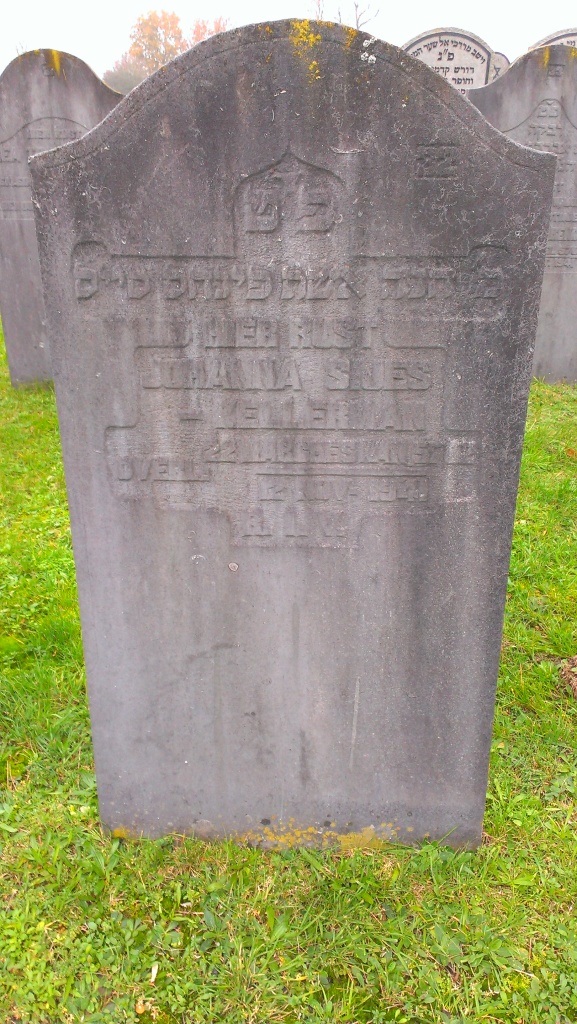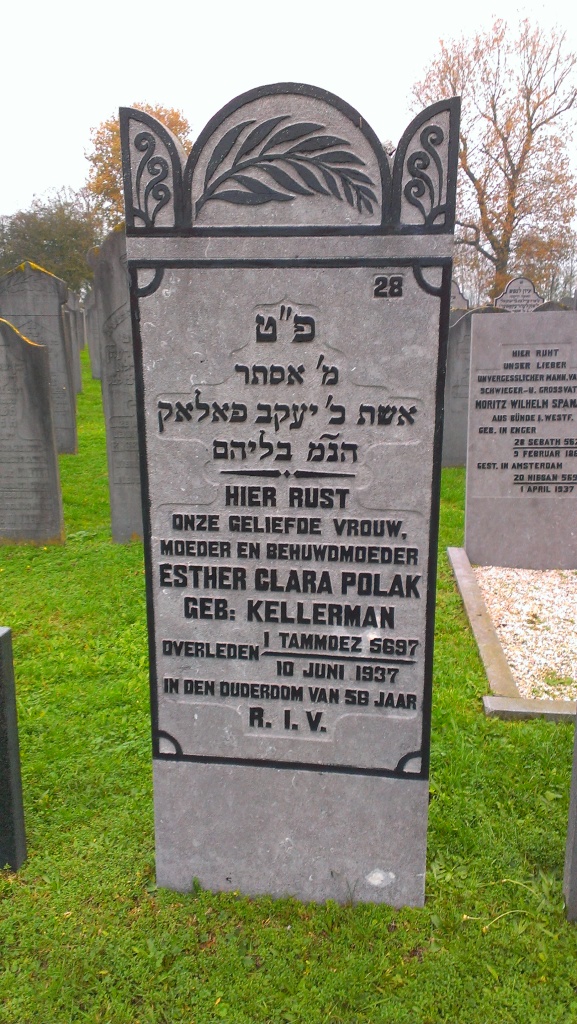 And when I looked up fromEsther's grave, who do I see just a few feet away? The Lissauers…..